Swimming in the middle of the mountains
With numerous springs and waterfalls, the Raurisertal is known for its abundance of water. The Sonnblick outdoor pool in Rauris is a popular family leisure destination on hot days.
Swimming, splashing and simply lazing around is the order of the day at the outdoor pool in Rauris - also known as Sonnblickbad - from late May to September. Neither children nor parents have to jump into the cold water here, because both the 16 x 32 m sports pool and the children's pool are heated. When the families whizz down the 51 m long water slide in several bends, they end up in 24°C warm water.
Relaxing outside the water is possible in the outdoor pool in Rauris on the play and sunbathing area. Parents can enjoy the view of the surrounding mountain world without losing sight of the children playing in the playground. In between, the bathers enjoy a game of table tennis until the heat makes it necessary to jump into the refreshing water.
Hungry and thirsty family members can buy ice cream, drinks or a refreshing snack in the outdoor pool restaurant. From the sun terrace, parents can watch the fun activities in the water.
A very special attraction at the Sonnblickbad is the beach volleyball court and the beautiful location with a view of the Hohe Tauern National Park.
Generously laid out sunbathing areas and child-friendly pools guarantee bathing fun for the whole family.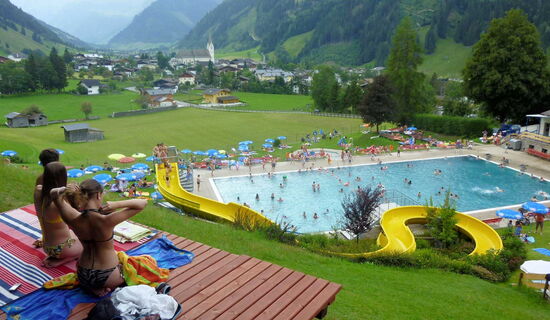 Opening hours:
from the end of May to September, daily from 09:30 to 19:30
Equipment:
heated pool, 16 x 32 meters, water temperature +24
Children's pool with a diameter of 8 meters, water temperature +24
Cabins with lockable boxes
Outdoor pool restaurant with sun terrace
table tennis
Playground and play area
51 meter long water slide!
Beach volleyball court
---