With a lot of love and personal commitment we have renovated the rooms in traditional style.
The disadvantage of a holiday is that you have to part with loved ones again. Already last year we mentioned that apart from the enormously beautiful nature, there are dear people who are so diligent, just, nice and friendly and make the holiday a paradise. To all of you, dear family Schwaiger (young and old) we wish health, joy, happiness and peace from our hearts.
A heartfelt thank you and goodbye next year.
It is our endeavor,
to maintain the character of the house and still offer our guests the comfort they need for a relaxing holiday.
The furniture in our rooms is all solid wood.
We have also made sure that we use only natural and renewable materials for the rest of the design. With the stylishly and country-typically furnished rooms (from June 2007 with balcony, shower, WC, cable TV) the Waldhof is a popular holiday destination.
All rooms are equipped with WLAN.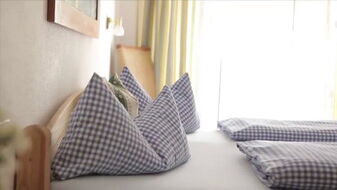 With great zeal and personal commitment we have dedicated ourselves to the well-being of our guests, and we do everything we can to ensure that you feel at home with us at the "WALDHOF" in a beautiful, relaxed atmosphere.
Your family Schwaiger