Simply enjoy your holiday with us, whether active or comfortable...
there is always something going on in Rauris and WALDHOF.
Cross-country skiing dream...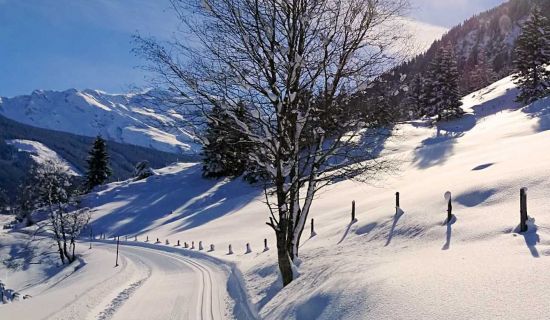 Cross-country skiing is a fountain of youth for everyone. Almost no other sport strengthens muscles and joints so much and is easy on them at the same time. Ski touring is the source of fitness and top figure! "Cross-country skiing keeps you young!"
The sun-drenched location of the holiday region invites you to glide through untouched nature with its extensive cross-country ski trails.
Those who visit the Seidlwinkltal immerse themselves in the atmospheric alpine landscape and let everyday life take a back seat to the distant past.
Top groomed cross-country trails
A total of 30 km of groomed cross-country ski trails criss-cross the original landscape up to an altitude of 1,200 m. The most popular is the Sonnenloipe, which was already described by Alois Stadlober as one of the most beautiful cross-country ski runs in Austria.
For the first time (winter 2009/2010), the free valleybus brings cross-country skiers to the various cross-country trail entry points this winter.
Skaters as well as fans of the classic style will find an excellent trail system with routes of varying degrees of difficulty.
Cross-country skiing equipment can be rented at the local sports shops and ski schools.
Relaxation in one of the most beautiful mountain landscapes in Europe.