"How much further is it? I don't feel like it anymore! I'm thirsty!"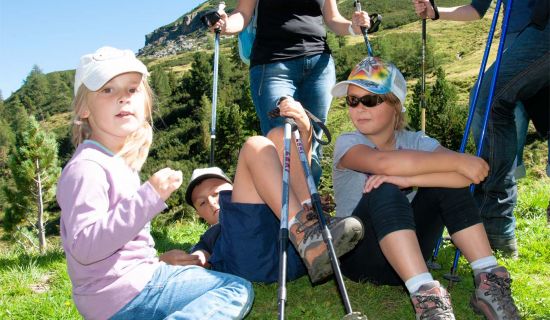 Children can really spoil a hiking trip for their parents. But that doesn't have to be the case if adults follow a few rules and come up with something.
With children it is different
Anyone planning a hiking trip with their offspring must know Hiking is different with children. They neither want to climb peaks nor "unwind" as many kilometres as possible. And they are certainly not good at running after you. For them, the path is the goal and they always want to experience something new. The big ones should therefore get involved with the little ones. If they come up with something exciting to keep the children happy, the trip can become an experience for everyone.
Luke is fire and flame: "Come on, come on. Look over there," the four-year-old calls to his parents, and off he goes again. At first, his father and mother had a hard time convincing Lukas to go on a hiking trip. "I'd rather play at home," he had explained. But his parents were able to inspire him: "It'll be great, we've thought up some exciting things for you."
Sensual experiences and we-feeling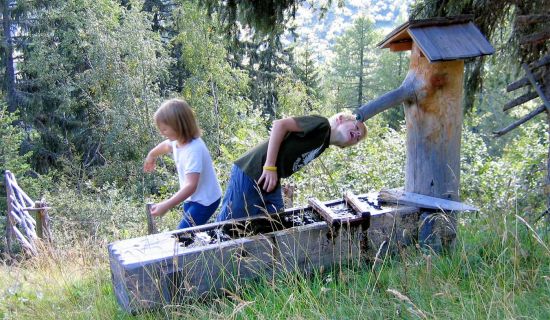 When hiking and mountaineering, children and young people make important experiences. They can live out their play instinct and their urge to move, and they strengthen their strength, endurance and skill. All this promotes motor and cognitive development. The children get to know themselves and their bodies better and learn to better assess their own strengths and weaknesses. Hearing, seeing, smelling, touching, feeling: The experience of nature with all senses strengthens the children's imagination. Joint family excursions also increase the sense of unity.
Giving the children freedom
The parents give Luke all the time in the world. Sometimes he runs ahead, sometimes he stays behind: the boy has his own rhythm. The parents know: If you push a kid while he's hiking, you're guaranteed to put him in a bad mood. Lukas can look at an anthill on the side of the path very closely and in peace. He can collect stones and sticks, look at snail shells, beetles, leaves and flowers. He can balance on fallen tree trunks and climb on boulders. If he misses something interesting, his parents make him aware of it. "Look here, Luke," says the mother and shows the child a butterfly. The father quickly has the nature guide at hand so that he can immediately read the name of the specimen. Lukas can even look at a rare beetle under a magnifying glass that his father also has in his luggage.
Forest roads are boring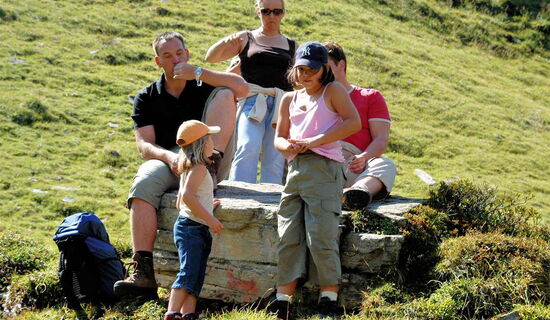 The parents have planned a route suitable for children. Time for many breaks and a small picnic are included. Instead of following well-maintained but boring forest paths, the first part of the route is over rough and smooth along a small stream. Then Lukas is allowed to walk across a meadow, and at a small pond he discovers frogs and dragonflies. In between, he goes up to a lookout tower, from which you have a great view over the forest area - especially with daddy's binoculars. Children also find castle ruins, caves, waterfalls and bridges incredibly exciting. The parents even don't mind that Lukas is building a dam at the little brook. His mother has packed a change of clothes. Lukas and his father are competing with self-built ships made of branches and leaves.
Little games for in between
If it should get boring in between and the motivation gets lost, small games provide a change. The classic is still: "I see something you don't see". But children also like to play "Who finds the next marker?" or hide and seek. Also popular are collection activities such as: Who has the most pine cones at the end? Or: Who recognizes bird calls?
By the way:
If you go on a walk with another family or at least invite a friend or playmate of your child, you will have twice the fun. When hiking in a group, the children motivate each other.
Safety rules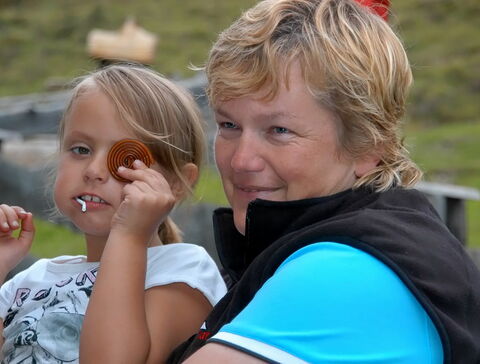 Requirements: Adults who are travelling in the mountains with children should have sufficient stamina themselves. They should know the way well or have a detailed hiking map at hand. A mobile phone is important for emergencies.
Time: Plan enough time. Rule of thumb: Children need a break every 60 minutes. The smaller the children are, the more time you should plan for.
Tempo: The smallest children set the pace. Uphill, children should lead the way; downhill, an adult should lead the way. Because children like to race downhill, which can lead to serious falls.
Equipment: Even in summer, children should wear long trousers. These protect against tick bites and thorny undergrowth. The shoes should support the ankle and have a profiled sole. Pack a headgear, sunglasses, rain protection and spare clothing. Children heat up more easily than adults and also cool down more quickly. A sweater or jacket should also be in your luggage when the sun is shining, as the weather can change quickly, especially in the mountains. Belong in the first-aid kit: plasters, ointment and an insect repellent. Never go hiking in summer without sunscreen.
Catering: Children need plenty of fluids during a hike - at least a liter. Fruit, cheese or sausage breads, raw vegetables and muesli bars are ideal as meals.
Loads: Even if the little ones want to carry their own things: Do not expect them to carry anything heavy. The following applies: The total weight of the rucksack should not exceed ten percent of their body weight.
Weather: Avoid the midday heat in summer.
Dangers: Avoid falling and rock fall hazards. Children should only be allowed to run ahead if the path is clearly visible. Make sure that your child does not eat mushrooms and berries and does not touch unknown plants. Due to the danger of altitude sickness, avoid regions above 2500 metres.
Bottom line:
Hiking with the offspring is simply different. See nature through the eyes of your children and give the little ones time to explore everything in peace. If you are also planning a child-friendly and exciting route and have come up with something to do along the way, you are on the safe side when it comes to hiking trips.
---